Overview of Google Drive and G Suite:
In the realm of cloud-based solutions, Google Drive emerges as a versatile platform that empowers users to store, access, and share files and folders effortlessly across multiple devices. With its generous storage capacity, Google Drive not only caters to diverse data needs but also fosters seamless collaboration through intuitive file sharing and real-time editing capabilities.
Meanwhile, G Suite stands as a comprehensive suite of productivity tools, encompassing popular applications like Gmail, Google Docs, and Google Sheets, among others. It goes beyond basic functionalities, offering advanced features such as team collaboration, precise document version control, and robust security measures to safeguard sensitive information.
By harnessing the combined strength of Google Drive and G Suite, businesses and individuals alike can streamline their storage, collaboration, and productivity workflows, unlocking a world of possibilities for efficient and secure data management.
Benefits of Migrating Google Drive to G Suite:
The migration from Google Drive to G Suite offers numerous advantages for businesses. Firstly, G Suite provides a cohesive and integrated experience by consolidating various productivity tools into a single suite. This integration streamlines workflows, eliminates the need for application switching, and ultimately boosts overall productivity.
Secondly, G Suite enhances collaboration by enabling real-time editing, simultaneous document access, and version control. Team members can seamlessly work together, making edits and offering feedback in real-time. It fosters improved communication and enhances project efficiency.
Moreover, G Suite offers robust security measures to safeguard sensitive data. Administrators have the ability to manage access controls, implement two-factor authentication, and establish data loss prevention policies. These measures ensure data security and compliance with industry regulations, instilling peace of mind.
By migrating to G Suite, businesses can unlock these benefits and empower their teams with a comprehensive suite of productivity tools, streamlined collaboration, and enhanced data security.
This article dives into a step-by-step guide for a seamless transition with the help of a reliable and smart cloud transfer service – MultCloud. This service will help you migrate Google Drive to G Suite as quickly as possible.
Step-by-Step Guide for Migrating Google Drive to G Suite:
With your G Suite account fully set up and your domain verified, it is now the perfect time to transfer your personal Google Drive to G Suite using the convenient MultCloud service. MultCloud is a cloud-based file transfer and sync platform that simplifies the process of moving files and folders between various cloud storage providers, including Google Drive and G Suite.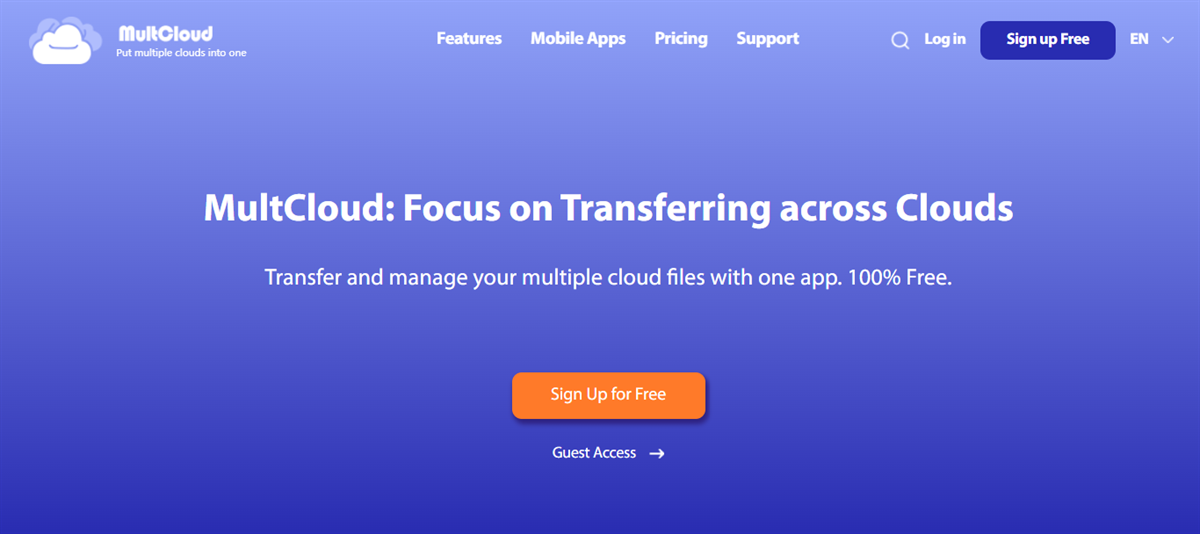 Follow the step-by-step instructions below to smoothly migrate your personal Google Drive to G Suite:
Step 1. Sign up for MultCloud:
Head over to the MultCloud website at https://www.multcloud.com and register for a complimentary account.
Step 2. Add Google Drive and G Suite:
Once you've completed the registration process, proceed to integrate your personal Google Drive and G Suite accounts into MultCloud. To achieve this, simply click on the "Add Clouds" button, choose Google Drive, and follow the authorization steps. Repeat these exact instructions for your G Suite account as well.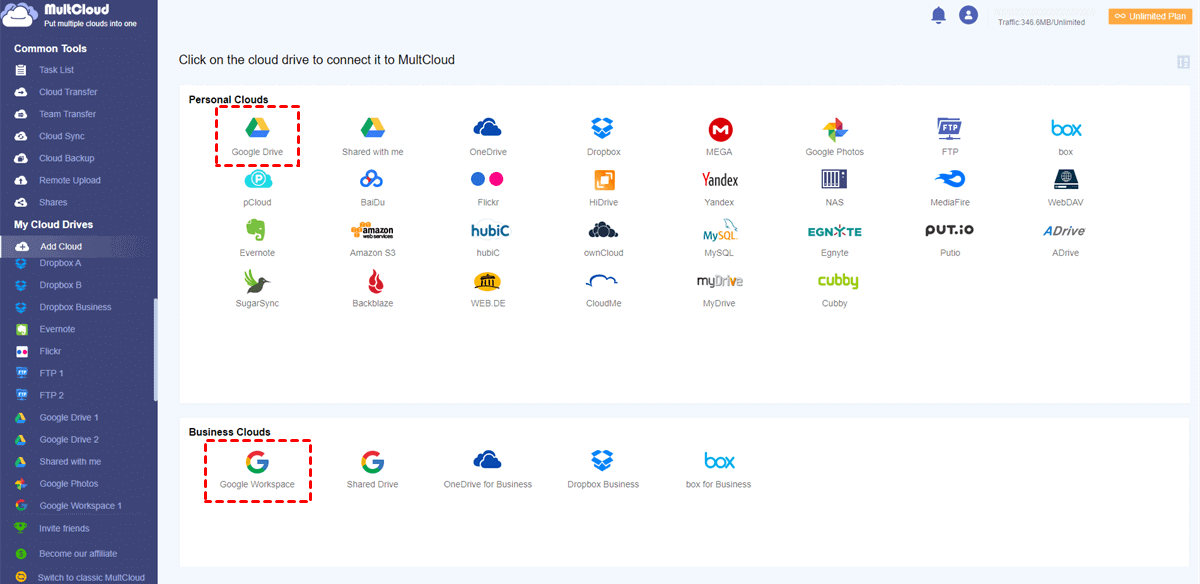 Step 3. Create a Transfer Task:
After successfully adding both accounts, navigate to the "Cloud Transfer" tab within MultCloud. From there, choose your personal Google Drive as the source cloud and Google Workspace as the target cloud. Click on "Transfer Now" to begin the transfer.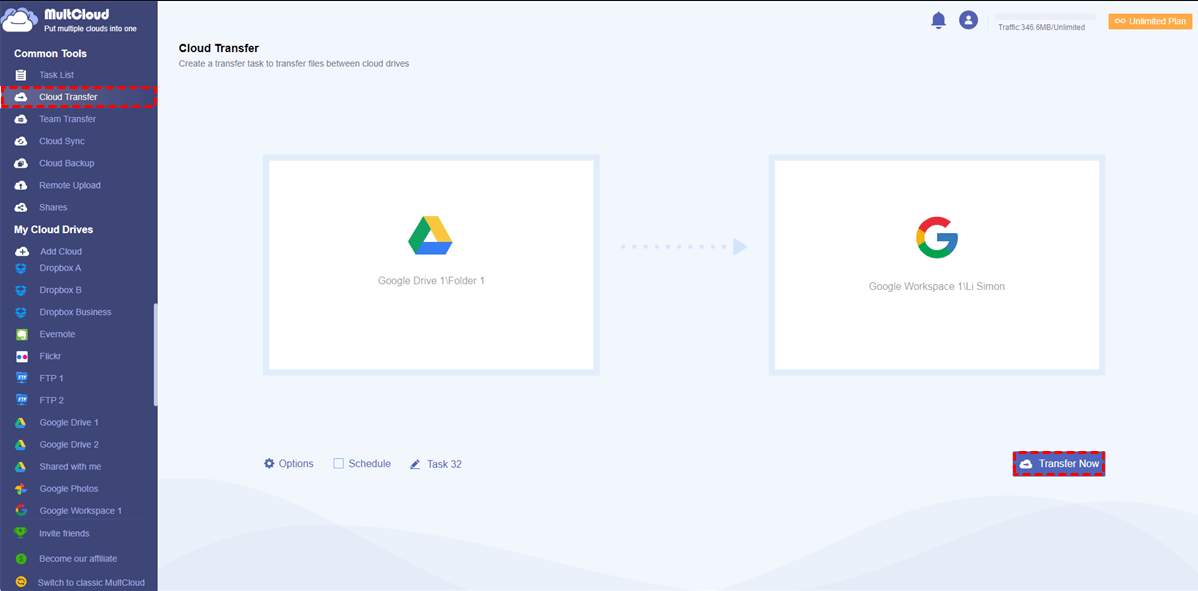 Why Use MultCloud to Migrate Google Drive to G Suite? Well, there are some benefits:
Easy and User-Friendly Interface: MultCloud offers an intuitive interface that makes the migration process user-friendly and accessible. Whether you're a tech-savvy individual or not, you can easily navigate the tool and carry out the migration smoothly, without any unnecessary complications.
Selective Migration. MultCloud empowers you with the flexibility to select specific folders or files for migration, granting you precise control over the transfer process. This valuable feature proves beneficial if you have particular data you wish to migrate or if you aim to reorganize your files in a different manner within G Suite.
Automatic Migration. MultCloud allows you to make scheduled tasks so that transfers can be started on time. There are 4 options, including transferring at a specific time, daily, weekly, or monthly.
So, you will find it easy to transfer files from one OneDrive account to another, move Dropbox to Google Drive, migrate OneDrive to Google Drive, etc.
Conclusion:
Migrating from Google Drive to G Suite presents a multitude of advantages, such as enriched collaboration, heightened productivity, and strengthened data security. By implementing a meticulously structured plan, organizations can seamlessly transition to G Suite and empower their teams with a suite of robust productivity tools. When you want to migrate data between them, MultCloud can be your best choice. In addition to transferring, it also allows you to make cloud sync directly.