For the Linux customers, Microsoft has announced the general availability of Azure Hybrid benefit which will help the users to bring licenses of SQL server and on-premises Windows server along with the subscriptions of RHEL or SLES to Azure. The migration process was already started during the preview period. The cost of running organization Linux workloads in Azure is minimized significantly with the help of the capabilities of Azure Hybrid benefit.
There are more than one thousand and five hundred Linux virtual machines that chosen to migrate to Azure, and they have a positive review of its functionality and usefulness in terms of reducing cost for those enterprises. Azure Hybrid benefit has also made the process of Linux cloud migration for the enterprises easier compared to the previous process. Before this availability of Azure Hybrid benefit, there was the presence of Bring-Your-Own-Subscription cloud migration which enabled to use of Red Hat Enterprise Linux (RHEL) or SUSE Linux Enterprise Server (SLES) subscriptions in the cloud for the customers of SUSE and Red Hat.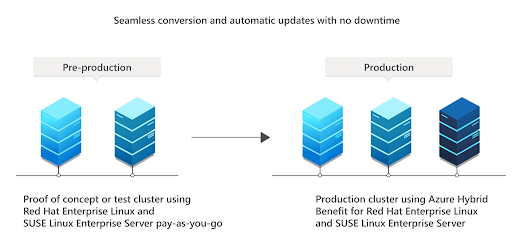 As the availability of Azure Hybrid benefit is announced for Linux, in Azure portal or marketplace of Azure pay-as-you-go images are available of all RHEL and SLES and user's own picture is no more required. With seamless conversions that are made post-development, time can be saved by the users.
The redeployment of production is also not needed after the availability of Azure Hybrid benefit. To bring-your-own-subscription billing, users can convert the images to the pay-as-you-go images that were used to give proof of concept testing in a very simple way. There is also a facility for lowering the costs that are spent for ongoing operational works as the patches, updates, and image maintenance is done automatically by Microsoft.
The same UI is also provided like other Azure machines and scalable batch conversions can be done due to the unified user interface integration with Azure CLI. With only one ticket the users can get technical assistance and co-located support from SUSE, Red Hat, and Azure. Like global file system, parallel file system and lift-and-shift failover clusters for Azure shared disks support is also announced along with the combine SUSE and Red hat support. The Azure Hybrid benefit is compatible with Azure Arc which helps to provide management of end-to-end hybrid cloud operation in one solution for the user's windows, SLES, and RHEL servers.
These benefits are now available for the Linux users with the basic features of Azure Hybrid benefit by registering Azure subscription with Red hat cloud access.
Visit the official website for more details.